Having taken the world by storm in recent years, TikTok is becoming one of the most popular and well-known social networking apps. But in case you're new to TikTok, TikTok is a video sharing app that lets you post short videos that are anywhere from 15 to 60 seconds long. Its entertaining, creative, and trendy content has continuously been drawing people in, with some even considering the app to be a second Vine! TikTok really has become a success, though, due to many various factors – which I have summarized in a list of stats below. Whether you're experienced with TikTok or a newcomer, these TikTok stats will help you get a better understanding of the app in 2020.
1. TikTok has 800 Million Active Users Worldwide
In 2019, TikTok was reported to have over 500 million active users worldwide. This seems to have changed in 2020, however, as a recent survey has revealed that TikTok's number of worldwide active users has jumped up to 800 million!
2. TikTok has been Downloaded Over 2 Billion Times on the Apple App Store and Google Play
It's pretty amazing how fast TikTok has been growing. TikTok stats show it has reached both its one billion and 1.5 billion download milestones within 2019 alone, both starting and ending the year right! TikTok isn't stopping its growth in 2020 either. In the first quarter of the year, the app had 315 million downloads. This is extremely impressive, especially for a newer app.
3. 60% of TikTok Users are Gen Z, with 41% of Users Being Between 16 to 24 Years Old
When designing TikTok, its creators had Gen Z in mind as their target audience. TikTok allows users to create and share funny videos while singing, dancing, or lip-syncing to their favorite tunes. It allows the younger crowd to express themselves in a creative way, whether that's by dancing, singing, or doing some form of comedy. If you think of it this way, it's no surprise why it has generated so much hype among the teens of the world. 
4. TikTok Has Been Downloaded 467 Million Times in India
Having beaten both China and the U.S. in numbers, TikTok stats reveal India is TikTok's biggest source of downloads, having contributed 277.6 million downloads in 2019 alone. The app continues to thrive in the country this year, and TikTok is paying attention, as it supports 15 different Indian languages. India's top place in downloads is followed by China and the U.S.
| Country | Downloads |
| --- | --- |
| India | 467M |
| China | 45.5M |
| U.S. | 37.6M |
5. There are 150 Million Active Users in China
TikTok isn't only booming in India, as there are numerous active users in China as well. Using the Chinese equivalent of TikTok, Douyin, China is boosting TikTok's stats this year. Douyin has 400 million active monthly users in China, and China is actually the biggest source of revenue for TikTok through its iOs users. In 2019, $122.9 million of TikTok's revenue was from China's market, and it's estimated to be even higher now.
6. There are 60 Million Monthly Active Users in the U.S.
Another key item to pay attention to in TikTok stats is the monthly active user count. While the U.S. doesn't have as many downloads as India or China, it does have a whopping 123.8 million downloads, with an estimated 60 million monthly active users as well. That's pretty big! According to TikTok's data, 60% of its users are female and 40% are male. As for age ranges, 80% are between the ages of 16 to 34.
7. TikTok Users on Average Spend 52 Minutes Per Day on the App
With TikTok's users spending nearly an hour on the app daily, this is more time spent on an app than Instagram or Snapchat. This is good news for brands, being that more time spent on the app equals more chances for users to see advertisements.
TikTok's plethora of content from comedy, music, etc, increases the shares that the content will get, causing a lot of usage. Not to mention the fact that many get lost scrolling through an endless amount of entertaining videos on the home page. TikTok, in general, is very addictive – in a good way, of course!
8. TikTok is Available in 155 Countries and 75 Languages
It's safe to say that TikTok certainly has a large, diverse audience –which is great news for both brands and content creators, being that there are more users to attract. But where do most of its audience come from? The Western audience of TikTok mostly migrated from the app Musical.ly, while the majority of the Eastern audience comes from Douyin. Many of TikTok's users are from Asia as well, which means that TikTok has a huge chunk of the world's population using it.
9. 90% of TikTok's Users Use the App Daily
9/10 TikTok users are on the app every day. This is very good news for TikTok, considering the fact that many, many apps are downloaded and then either forgotten about or uninstalled. TikTok stats show it seems to retain its audience, attracting many, and keeping their attention.
10. TikTok is the 6th Largest Social Network
As of January 2020, TikTok has been doing some serious rising up in the ranks. Having surpassed the likes of apps such as Twitter, Pinterest, LinkedIn, and Snapchat, TikTok is now the 6th biggest social networking app. While it still has room for growth, this is pretty noteworthy, especially for a recent app.
11. TikTok is the Most Downloaded App of 2020 (So Far)
While it's not set in stone, TikTok stats from the analytics company AppAnnie suggest that TikTok is at the top of the download charts of 2020. In 2019, TikTok nearly beat WhatsApp for the top place in downloads, but was cut a bit short at 738 million – now, TikTok is closing in on 2 billion downloads. Talk about growth!
12. Around 35% of TikTok Users Have Participated in a Hashtag Challenge
Hashtag challenges are one of the biggest trends on TikTok, which is why it's so important that brands, influencers, and other content creators should pay attention to them. Even TikTok's analytics agree, as 16% of all videos on the platform are tied to hashtag challenges. Brands are taking note of this, launching their own viral challenges off of the trend. According to Adweek, hashtag challenges cost brands $100,000 minimally.
13. TikTok Guarantees 5 Million Daily Impressions for Brand Takeover Ads
If you don't know what brand takeover ads are, they're ads in the form of videos, GIFs, links, and/or images that appear right when TikTok is opened. These feature one advertiser per day and cost about $50,000 per day. With TikTok's huge audience, TikTok guarantees that these brands' ads will be seen at least 5 million times.
14. TikTok Ad Prices Range From $50 to $150,000
As TikTok is a popular app, brands are flocking towards it to advertise. Ads on TikTok now start at $50 per day, but the various types of ads available have different prices. Here are some examples:
In-Feed Videos: $25,000 to $30,000 daily.

Brand Takeover Ads: $50,000 daily.

Branded Lenses: $80,000 to $120,000

Hashtag Challenges: $150,000 for six days.
15. More Than One Million TikTok Videos are Viewed Everyday
In 2018, it was recorded that more than one million TikTok videos were viewed daily – and at this point of the year, the number may be even higher now. This is a big milestone for an app, and the fact that TikTok has reached it within the first few years of its creation says a lot about the app itself and its appeal. As the TikTok community grows, the number of uploads and views grow as well.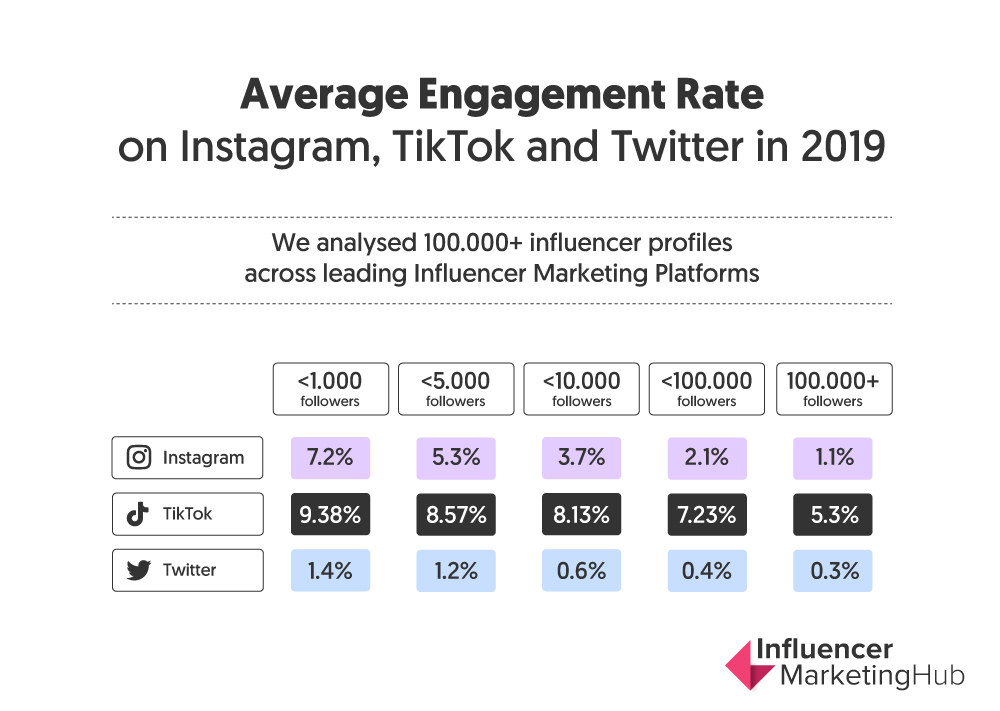 16. TikTok's Revenue Increased by Over 300%
Most of TikTok's revenue comes from ads, but in-app purchases are starting to increase the app's revenue. In October 2019, around $18.2 million was gained due to these purchases. TikTok's overall revenue has been said to have gone up 310% because of this.
17. Bytedance's Worth is Over $78 Billion
Bytedance, the company that owns TikTok, has an impressive amount of monetary worth. It's no shocker, considering TikTok's achievements – but the company's success wasn't just caused by TikTok. Bytedance has other apps that have broken the mold as well, such as Xigua and Huoshan. These two apps are also video-focused, being search-oriented and livestream oriented respectively, and both have over 100 million users. So, while TikTok may have contributed a lot to Bytedance's worth, credit is due to Bytedance's other successful apps as well.
18. Daily Engagement Rate in the U.S. is Near 30%
This figure has not been updated yet, at least publicly, but it is rather surprising. Compared to other apps such as Facebook and Instagram that have engagement rates over 90%, TikTok stats reveal that TikTok seems to fall a bit short in this aspect, at least for the U.S. Despite this, TikTok is making some serious headway towards the apps in terms of downloads.
19. TikTok's Estimated Monthly Earning is Around $3.5 Million
As stated previously, TikTok's in-app purchases have accounted for a lot of TikTok's earnings. However, things got serious once advertising was introduced to TikTok in 2019, as the app's monthly earnings went even higher.
20. TikTok is the Only App Not Owned by Facebook to make the Global Top 5
Among the top downloaded apps, TikTok is the only one not owned by Facebook. As Facebook is a leading company in social networking with top-ranking apps such as Instagram or Whatsapp owned by it, the fact that TikTok made it up there speaks for itself. This is not only impressive because of the company deal, but also because TikTok is a relatively new app compared to those owned by Facebook.