Understanding TikTok analytics and statistics is the key to stepping up your TikTok strategy and optimizing your profile. All you'll need is a free TikTok Pro Account, which is TikTok's recently launched native analytics tool. Knowing they needed to compete with other social platforms, TikTok created the tool for its users after their popular influencers expressed the desire for insights that would help them connect with their audiences. Similar to Instagram Creator accounts, these analytics reveal insights about a company or an influencer's overall audience and the performance of their posted content. With this Pro tool, you'll uncover a helpful range of metrics and information to help you better connect with your TikTok community. For more information about where to find analytics, what to look for, and how to check them in regards to your media strategy, keep reading! 
Where to Find Analytics
Switching to a Pro account on TikTok is easy. Here's how:
Go to your profile page, open Privacy and Settings
Tap "Manage My Account"
Tap "Switch to Pro Account" and follow the steps from there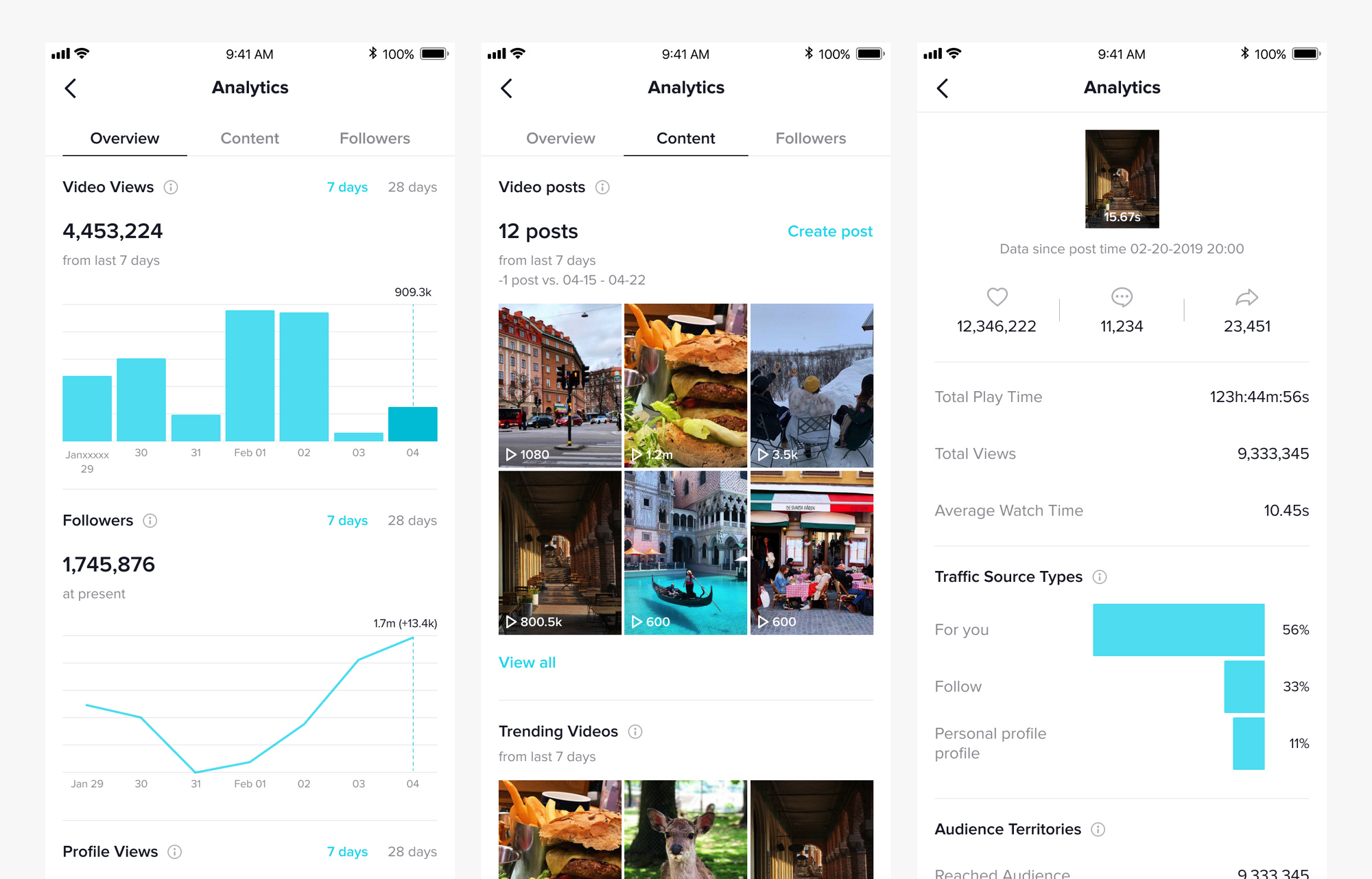 After activating your account, you can find the analytics button under your account options on both desktop and mobile. Once opening the analytics tab, you'll land on your personalized Overview. Your Overview is where TikTok shows you data on video views, followers, and profile views from the last 7 days. You can dive into more of your account insights through each of the three main categories TikTok displays on your account dashboard:
Overview
Content
Followers
How to Check TikTok Analytics
While the Overview tab gives you information on video views, followers, and profile views, the Content and Followers tabs also provide you with important metrics. On the Content tab, the metrics will help you understand what videos your followers are engaging with most, popular content, and what your followers are listening to. There is a separate section to check Video Posts, where you can see the top 9 videos that you posted within 7 days with the fastest growth in views. When you select the Trending Videos tab, you'll see which of your videos have been trending on the For You Page and the total number of views those videos have gained. This tab also shows content that was posted outside of the 7-day window to give creators insight into what videos are still popular.
The Followers tab is the last section; here, you'll see a breakdown of what content your audience is engaging with, so you can find information about your followers and the videos they're watching across all of TikTok.
Finally, to view the analytics for an individual post, you can tap on the video thumbnail to open its unique dashboard. The analytics will then show you the total like count of the post, the total number of comments, and the total shares on the video. TikTok also has an advertiser dashboard to help evaluate engagement with campaigns, show data on views, likes, and followers, and present all user-generated videos for branded hashtag challenges that can help with virality and branding.
What to Look For
On your Overview, pay attention to the number of video views, followers, and profile views you've gained in the last 7 days. Metrics like profile views come in handy because it allows you to see what you posted on what day and gives you an idea of what days of the week are best for discoverability and visibility.
By looking back on your individual posts, you can find metrics on your Views that show you your weekly average time watched, which can show you the retention rate on your videos. This can tell you if you need to work on maximizing your videos for loop ability and repeat viewers.
Make sure to also check out your Traffic Sources to show you where your video traffic is coming from by country based on a percentage of views. This metric helps you understand what location is your top-performing. Similarly, the Audience Overview section tells you where your audience found your content, which is helpful for advertising purposes.
On the Followers tab, you'll find how many total followers you have as of the 7-day reporting period and how many followers you've gained or lost over the week. You can also see demographics such as gender and where your followers are located by country. It is also important to check Follower Activities – this is where you'll find helpful metrics that showcase the hourly times on exact dates in which your audience is active and scrolling. You can also see when they're least active, which can help you set a posting schedule. Also, not only can you see which videos your followers have watched, but you can also find which sounds they've listened to, allowing you to have an insight into more content ideas.