When many hear the term influencer they immediately associate it with Instagram or other social media platforms. Many fail to remember that at YouTube's core it is a social media network where users can react to and share videos. While Instagram pictures and captions may be able to capture a user's attention for a few brief seconds, YouTube videos can keep an audience engaged for upwards of 15 minutes at times. Top creators can attract a hyper-engaged audience of fans that can be in the 10s of millions at times (looking at you PewDiePie). This combination of factors leads to YouTube being one of the most efficient avenues to allocate money in any advertising campaign. Below we have curated a list of the top 10 influencers on YouTube for the first quarter of 2020, sourced from NeoReach's Social Intelligence Insights quarterly report.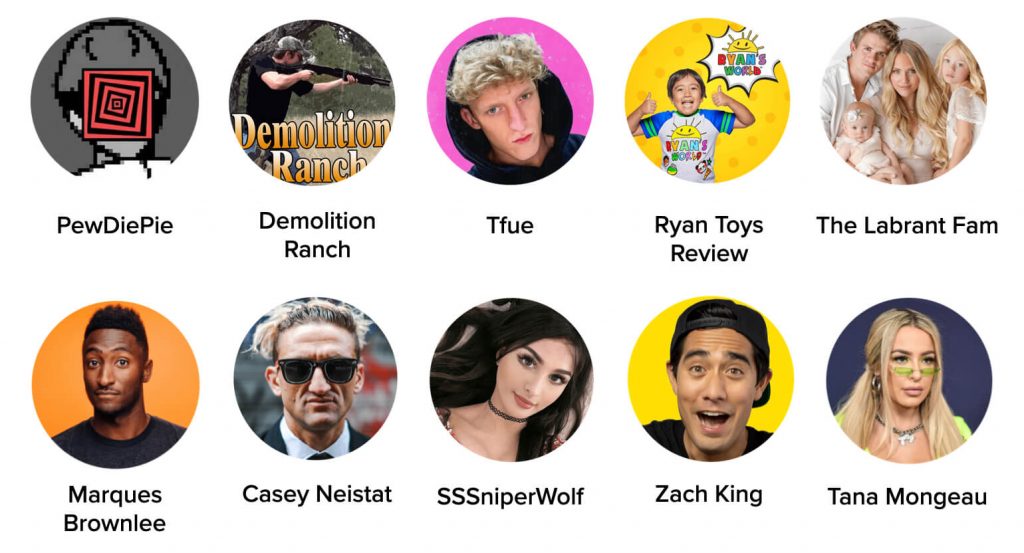 Looking for top influencers in a certain market? Check out our Top Lists of categorized influencers!
Average Views: 6,572,267

Subscribers: 105M

Average IMV: $970,291.19

Reach: 103,000,000

Average Engagement: 434,756
PewDiePie is an example of what many think of when they hear YouTube influencer for a good reason. Felix was able to rack up an impressive 6.5 million views on average for each of his sponsored videos in Q1 2020. Brands like DLive, NordVPN, and GFuel all enlisted him as a crucial member of their advertising campaign. PewDiePie has the most diversity in terms of industries he worked within Q1, with gaming, technology, and food/drink.
Average Views: 4,372,199

Subscribers: 25.3M

Average IMV: $364,979.92

Reach: 24,000,000

Average Engagement:

15,204
Even though Ryan may be young, he is still a massive influencer on the biggest video sharing website in the world. In Q1 Ryan teamed up with Legoland to create great content in the park for his viewers, while also showcasing everything the park had to offer benefitting Legoland. This influencer was able to create a rare hybrid where the content is the advertisement, which is much more effective in engaging the audience.
Average Views: 2,798,871

Subscribers: 11.9M

Average IMV: $293,697.68

Reach: 11,000,000

Average Engagement:

69,788
The LaBrant family is always posting family-oriented content and has been able to attract a large following, setting the bar high for other influencers. The LaBrant family partnered up with Zynga to promote their viral mobile app Words with Friends in Q1. Look for the Labrant family to partner with other family friendly gaming companies like Zynga in the future.
Average Views: 2,010,731

Subscribers: 12.1M

Average IMV: $240,562.48

Reach: 11,900,000

Average Engagement: 78,267
Casey Neistat always creates high-quality cinematic vlogs that captivate his audience base each and every time. Casey worked with OnePlus in Q1 and was able to provide close to 250k in immediate market value. Many companies have targeted Casey as a great candidate for helping them launch their marketing campaign. By reaching over 2 million viewers on average per sponsored video, Casey is deserving of the number 4 spot among top influencers on YouTube.
Average Views: 1,918,086

Subscribers: 11.2M

Average IMV: $230,499.88

Reach: 10,400,000

Average Engagement: 74,731
Marquis Brownlee has been well known in the YouTube community for years with his valuable advice and reviews on various tech products. It is no surprise that the tech company, Oppo, decided to partner with him in Q1. By partnering with Marques, Oppo was able to reach over 10 million people and promote their product.
Average Views: 1,757,393.54

Subscribers: 11.8M

Average IMV: $210,244.52

Reach: 11,500,000

Average Engagement: 67,969
Tfue has been able to attract one of the largest followings among any Fortnite YouTubers. Just like Ryan, Tfue is able to tie the advertisement into the content he creates which is a great opportunity for both Tfue and Fortnite. This promotes an unparalleled level of engagement with the audience. By working with Fortnite in Q1 Tfue was able to cement himself in the top 10 for video influencers in 2020.
Average Views: 1,725,462

Subscribers: 3.6M

Average IMV: $357,588.46

Reach: 3,280,000

Average Engagement: 215,439
Matt provides his audience with a variety of content through this channel featuring videos about restoring cars and homes mainly. He also has two other channels, Demolition Ranch and Vet Ranch, which shows how diverse an audience he is able to capture through his content. Matt worked with Vistaprint in Q1 and should be on every company in the tech sectors radar as one of the top influencers on YouTube. 
Average Views: 1,595,778

Subscribers: 7.27M

Average IMV: $176,658.49

Reach: 5,870,000

Average Engagement: 48,153
Zach King creates content related to magic and has been able to reach millions after putting out videos for years. Zach partnered with two different companies in Q1, Home Chef and Videoleap. Representing both the food/drink and tech sector, Zach has definitely cemented himself as one of the top influencers on YouTube in the first quarter of 2020.
Average Views: 898,448

Subscribers: 5.43M

Average IMV: $113,162.84

Reach: 5,220,000

Average Engagement: 40,224
Tana Mongeau attracted enough views in Q1 of 2020 on her partnership video with Fashion Nova to earn her the ninth spot on the list of top influencers on YouTube. In the past two years, Tana rose to prominence and became a key piece in many companies' marketing campaigns as she is able to reach a younger audience which can be valuable to marketers. With over 5 million followers and counting, look for Tana to only increase her number of sponsored YouTube videos in 2020.
Average Views: 718,734

Subscribers: 20.2M

Average IMV: $88,795.01

Reach: 18,300,000

Average Engagement: 29,145
With a background in gaming, SSSniperWolf was able to attract an audience captivated by her reaction videos. Lia was able to reach over 18 million people with her sponsored videos in 2020. She partnered up with Dragon Raja, and Tinder to provide an average of 88.7k in IMV. Lia shows she is able to promote a variety of content by working with companies in both the gaming and tech industry in the first quarter. Look for Lia to continue to be one of the top influencers on YouTube.