While new streaming platforms like Twitch establish themselves in the digital gaming community, YouTube maintains its title as the top gaming site to host influencers and their branding initiatives. With YouTube, creators and various brands can use the platform for their growth-focused campaigns. NeoReach conducted Social Intelligence Insights Report for Q1 2020 to provide analyzed data from the US and Canada that was pulled from over 6,000 YouTube videos indicating brand partnership. Through this report, it was found that Epic Games came out on top as one of the top 5 gaming spenders, putting much of their marketing strategy into influencer marketing to promote their brand and games such as Fortnite and Totally Accurate Battle Simulator to the gaming demographic on YouTube.
Download this blog as slides to share and better understand their campaign strategy! Epic Games Campaign Teardown

Epic Games
Epic Games is an American video game and software developer/publisher based in North Carolina. Known for their games Fortnite, Gears of War, and the Unreal series, this gaming company has come on top as one of the most successful video game engines. As of 2018, the company has an estimated US $15 billion valuation. Knowing the growth and success of influencer marketing, Epic Games has dominated the space, even putting together programs that can benefit both creators and developers like their "support-a-creator" initiative.
Top Spender
This gaming brand took the cake for the highest brand spend at nearly $11M over 304 videos. To put it in perspective, the second-place top spender was Bang Energy, who spent $8M over 141 sponsored videos. These statistics show that Epic Games is dedicated to following industry trends with YouTube influencer marketing.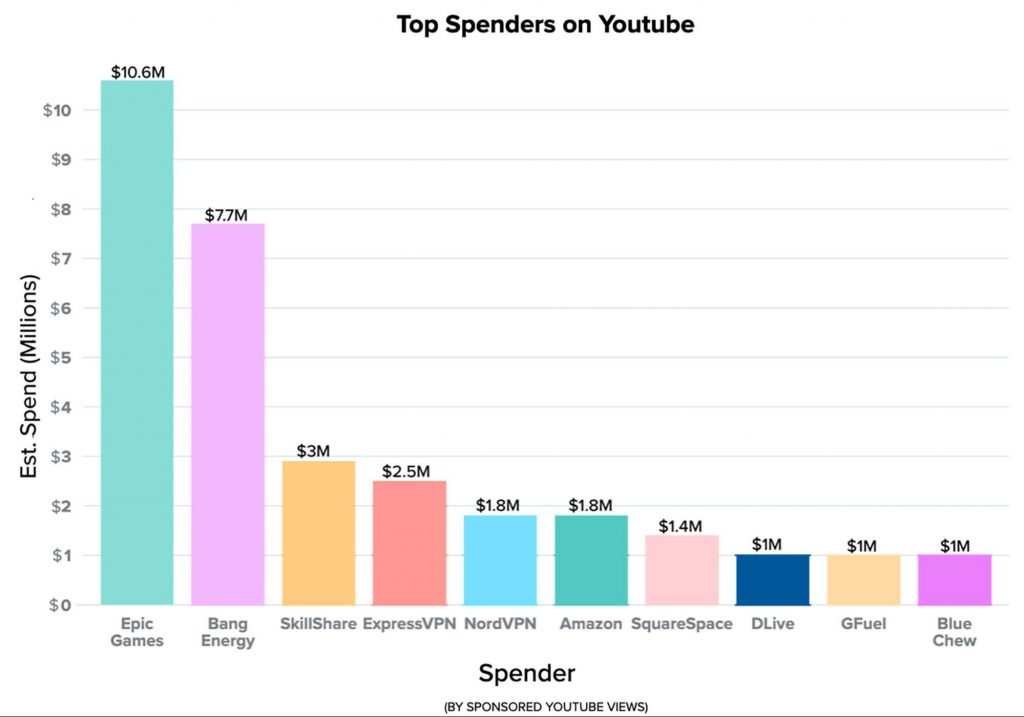 Reaching a total estimated spend of close to $14 million, the top 5 gaming spenders on YouTube for Q1 2020 achieved influencer marketing with a variety of strategies. With nearly 12 times greater spend on half as many sponsored videos, Epic Games locked in 11 times more views than Raid. As the largest YouTube spender in the gaming category for Q1 of 2020, Epic Games spent more than double the amount spent by all of the other four top spenders combined. Just shy of two dozen activated influencers, they achieved massive success with their chosen creators.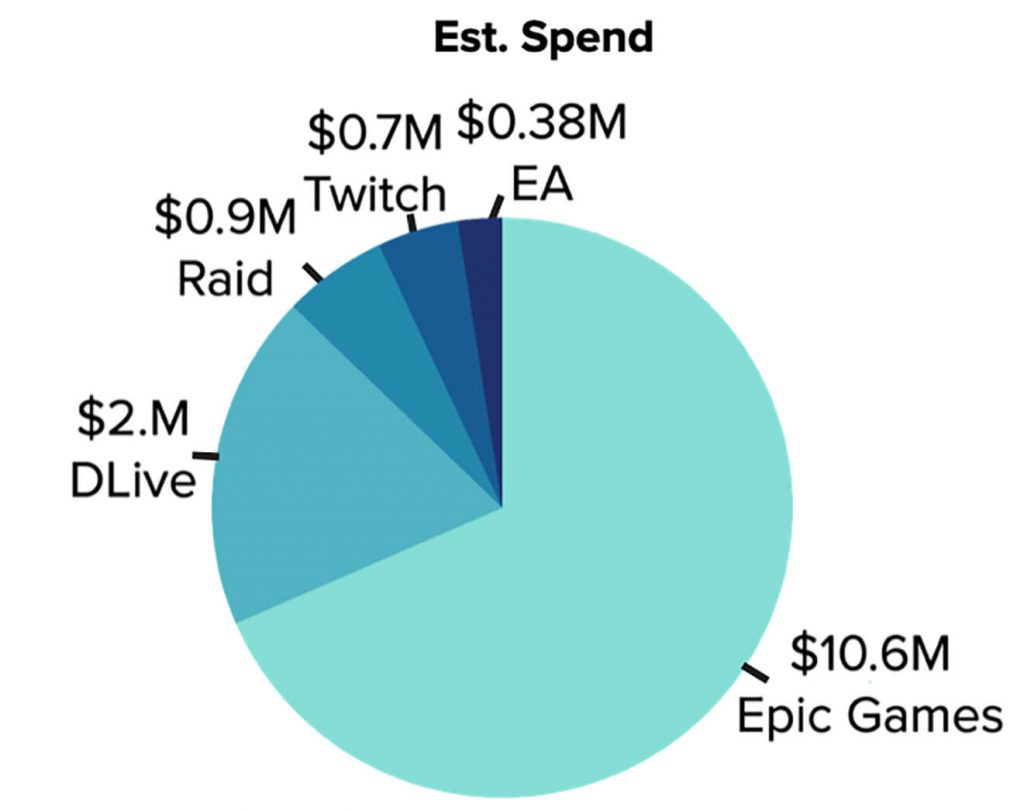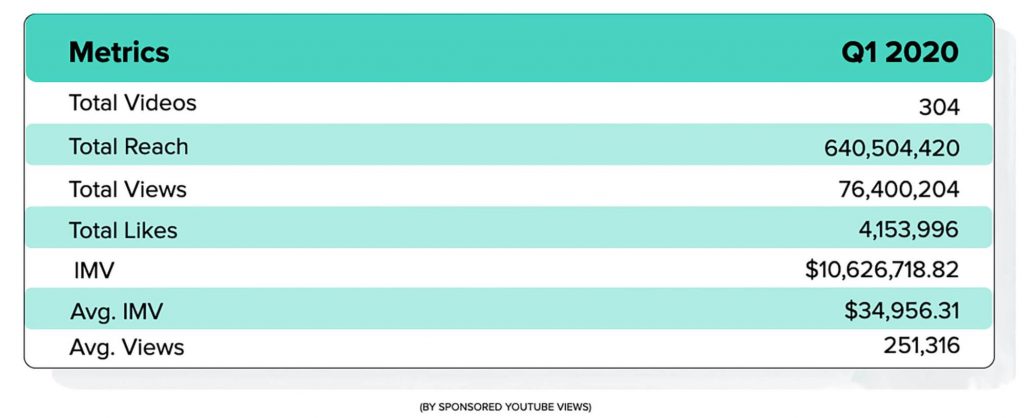 Of all the 304 videos that indicated a partnership with Epic Games, the gaming company gained a reach of over 640 million, more than 76 million views, and 4.1 million likes. They also drew in an influencer media value (IMV) of more than $10 million. On average, Epic Games had an IMV of $34,956.31 and 251,316 views.
Drawing in Gaming Influencers
Going forward, Epic Games will continue to utilize influencer marketing and form strong relationships with gaming YouTubers. As a brand, Epic Games holds onto the strong belief that influencers are one of the main discovery engines for their games, allowing them to inspire millions of other people to play. In fact, the future of Fortnite continues to be driven by influencer input, as changes are made due to their constructive opinions.
In the report, gaming influencers came out as some of the top influencers. The top gaming influencers in their category were all activated for multiple videos each between two high-profile brands, with one of those brands being Epic Games. To promote their games, Epic Games recruited 23 YouTube creators to film themselves playing and providing tips for various games. To help break it down, check out this table that details the games each influencer promoted and the total number of videos they posted for the campaign.
Influencer Handle
Game(s) Promoted
Number of Videos Posted (Sorted by Game)
Tfue
Fortnite
Fortnite = 13
Randumb
Fortnite
Fortnite = 94
ItsFunneh
Totally Reliable Delivery Service
ReadySet Heroes
Totally Accurate Battle Simulator
TRDS = 1
RSH = 1
TABS = 1
Fresh Panda
Fortnite
Fortnite = 24
symple
Fortnite
Fortnite = 9
Shdws
Fortnite
Fortnite = 26
Daily Fortnite Battle Royale Moments
Fortnite
Fortnite = 1
Nate Hill
Fortnite
Fortnite = 23
NICKMERCS
Fortnite
Fortnite = 67
Buried
Fortnite
Fortnite = 2
dakotaz
Fortnite
Warzone
Fortnite = 17
Warzone = 1
Spook
Fortnite
Fortnite = 1
Drolby
Fortnite
Fortnite = 1
STZx20
Fortnite
Fortnite = 2
Mtashed
Tom Clancy's The Division 2 Warlords of New York
Warlords of New York = 1
homozoned
Fortnite
Fortnite = 2
Sceptic
Fortnite
Fortnite = 7
Joey
Fortnite
Fortnite = 2
JDROCKS
Fortnite
Fortnite = 1
Devour Jerrc
Fortnite
Fortnite = 2
Cruz
Fortnite
Fortnite = 2
mjb
Epic Games
Epic Games = 2
YTRY Modz
Epic Games
Epic Games = 2
Standout Content and Influencers
Throughout the campaign, there were standout influencers that produced content with the highest amount of views, reach, and IMV. These videos were mainly geared towards the younger, male gaming community on YouTube (53% of Fortnite players are aged 10-25 ), and did their part in creating excitement around Fortnite and Epic Games. The content featured in the table below were all made between January 2020 and February 2020, mostly focusing on Fortnite.
| Influencer Name | Game Promoted in Video | Views | IMV | Reach |
| --- | --- | --- | --- | --- |
| Tfue | Fortnite | 3,052,969 | $356,704 | 11,500,000 |
| Randumb | Fortnite | 1,693,882 | $236,727 | 2,340,000 |
| ItsFunneh | Totally Accurate Battle Simulator | 892,696 | $102,940 | 5,340,000 |
| Symple | Fortnite | 466,009 | $51,460 | 189,000 |
| Fresh Panda | Fortnite | 324,127 | $57,742 | 1,590,000 |
Tfue is an American eSports player that has gained most of his success playing Fortnite and uploading his gaming videos on YouTube. On his channel, he has 11.8 million subscribers and over 1.2B views. Randumb, otherwise known as Jordan Schneider, is a gaming YouTuber that focuses his content mainly on Fortnite videos. His channel has gained 2.91 million subscribers and 538 million views. ItsFunneh is another gaming channel on YouTube that posts funny daily gaming videos, live streams, and more. The channel, run by "Funneh", has 5.99 million subscribers and 5.9 billion views. Symple, while a smaller channel, is known for its voice trolling videos that have gained hundreds of thousands of views, bringing his total channel views to 18 million. The official Fresh Panda channel is focused on entertainment and gaming, and has gained up to 1.75 million subscribers and 140 million views.
Final Results 
Overall, the Epic Games Q1 Report Data states that this Epic Games campaign drew in $14.7 million in IMV, 112.5 million impressions, and 5.6 million engagements on YouTube. In terms of IMV, engagement, and impressions, Randumb and Tfue came out as influencers on top. Randumb drew in $5 million in IMV, 2.4 million engagements, and 33.3 million impressions on his content for the campaign. For Tfue, he accounted for $3 million in IMV, 730,000 engagements, and 21.6 million impressions on his Fortnite videos.
In January 2020, around the time when the videos for the campaign began to be posted, it was reported that Epic Gamed amassed 108 million registered users on their store and generated $680 million in revenue. By June 2020, after video content posted for the campaign wrapped up, it was reported that the revenue for 2020 grew to be forecasted at $5 billion.
Download this blog as slides to share and better understand their campaign strategy! Epic Games Campaign Teardown