Google, the well-known search engine and technology giant, released a new advertising feature called Google Discovery Ads. For marketers used to and skilled in running Facebook ads, Google has created something that could be an equal contender. Facebook has dominated the market with AI-backed advertising. Their capabilities outmatched other marketing channels and providers with their sophisticated targeting method and nearly guaranteed return across a huge market. Well, it seems Google may have taken a page from their book when they released Google Discovery Ads.
Google Discover: What is it?
Introduced a few years ago to their Search, the Google feed was a news source able to serve you relevant content even when you're not searching. This feed was named Discover. The scrollable feed lets you explore your interests based on past searches and other actions taken on your device.
Complete with fresh visual content, topic segmentation, and customizable content choices, Google Discover acts like it's own social media feed for news and articles across the web.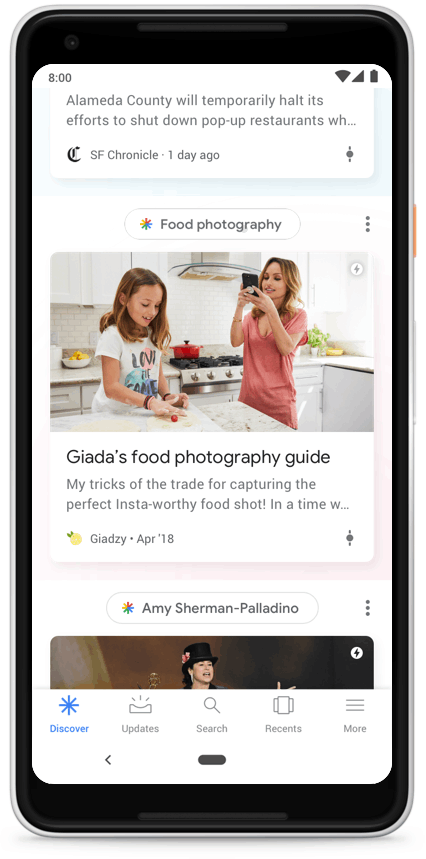 Google Discover iPhone and Android users can personalize their feed by following or unfollowing chosen news topics, provided that they have the Google app installed on their device.
The goal? To answer a question you haven't even asked yet.
About Discovery Campaigns
Google Discovery Ads can be used to reach up to 2.9 billion people across Google feeds in accordance with your ad goals. This campaign type, chosen in Google Ads, helps advertisers deliver customized visual dominant ad experiences. With a single campaign, you can reach a wider audience across YouTube Home and Watch Next pages, Gmail Promotions and Social tabs, and the Discover feed. This allows you to:
Drive higher engagement by serving more relevant ads.

Natively render visually rich ads at scale across multiple Google properties.

Automate ad bidding preferences to coincide with your performance goals.
Discovery Campaign Settings
Like Facebook ads, Google Discovery ads allow several campaign settings to be automated to save time and optimize performance. 
Bidding

Targeting

Monitoring a budget
Create and Manage Discovery Ad Campaigns
If you are ready to drive action with the right audience, knowing the ins and outs of Google Discovery ads may become just as important as Facebook's. These are the steps to follow to get started with Google Discovery Ads.
1. Pre-process
It is a good idea to gather together your ad assets– any ad copy, images, logos – prior to beginning for a smoother process. You will also want to enable sitewide tagging on your account along with conversion tracking. Google recommends you set a daily budget of at least 10 times the target CPA bid to ensure sufficient spend for the best performance.
Now, let's get started.
2. Setting up a campaign
Once you sign in to your Google Ads account, create a new campaign. If you're familiar with Facebook ads, this process with progress quickly. You will then choose an objective, also known as the campaign goal, from "Sales", "Leads", "Website traffic", or "No goal". Specify the campaign type to be Discovery.
Then, you can specify your audience targeting settings. Along with other categories, you are able to target custom intent audiences, remarketing, and in-market with your Google Discovery ads.
Finally, set your bidding and budget values and save.
3. Add creative
Once your settings are selected, you can customize your single-image or multi-image ad based on the assets you prepared in Step 1. 
4. Monitor and optimize
Google's algorithm will run and determine the best people and times to display your Discovery ads for the best return. After allowing time for the ads to run and generate data, you can update targeting, budget and other settings to increase performance.
Why Use Google Discovery Ads?
So, now you know what they are and how to create campaigns with them. But why should you use Google Discovery Ads– especially if Facebook ads are working so well for you already?
Google has emphasized with this release that they offer a reach competitive with Facebook's at 2.9 billion. This is an upgrade from their first attempt at Discovery ads which only claimed to reach around 800 million. With new placement across platforms, Google's global presence not only matches Facebook's but they flaunt a strong presence in more verticals, rather than just as a social media site. They are vying for your paid ad budget, even encouraging repurposing old social campaign assets for fast scaling social media campaigns with Google Discovery ads.
After all, testing has shown that Discovery ads derived from social assets tend to perform the best due to the social media nature of all "feeds" in which the ads can be placed. 
If they haven't already proven their versatility and skill in multiple areas beyond Search, Google is trying to get your attention again in the social media space through your ad spend. Google Discovery ads are an added weapon to the company's suite of top-notch digital offerings.